This International Women's Day, Let's Celebrate Women Who "Kicked Glass"
Ever wonder where the phrase "glass ceiling" comes from? The phrase was actually coined by a woman, Marilyn Loden, about 45 years ago. A management consultant, Marilyn first used the phrase during a panel discussion about women's aspirations. After listening to criticisms on women's deficiencies, she argued that the "invisible glass ceiling" prohibiting women from moving up in the workplace was cultural, not personal. In fact, it was societal stereotypes bleeding into the workplace that really hindered the success of women, not a lack of motivation or intelligence. However, many women have fought to break through the glass ceilings present within our society; and once glass has been broken, even if glued back together, it will never be the same.
When I was the foundation chair of the National Association of Women Business Owners LA (NAWBOLA), we celebrated women in business who were "Kicking Glass." These women went beyond breaking through the glass ceiling, they demolished it! They found the strength and courage to put fear and doubt aside, and challenged the status quo. They set out on a mission to not only improve their own lives, but to better the lives of everyone in their communities, and subsequently, the world.
Over the years, I have come to realize that all "glass kicking" women seem to share similar traits; courage, perseverance, tenacity. These women didn't allow the fear of failure or retaliation to stand in their way of fighting for what they believed in and knew was right. These traits were also ever-present in my mother, Maria. Fiery and determined, she set out to feed her local community; to spread love the only way she knew how... through cooking food.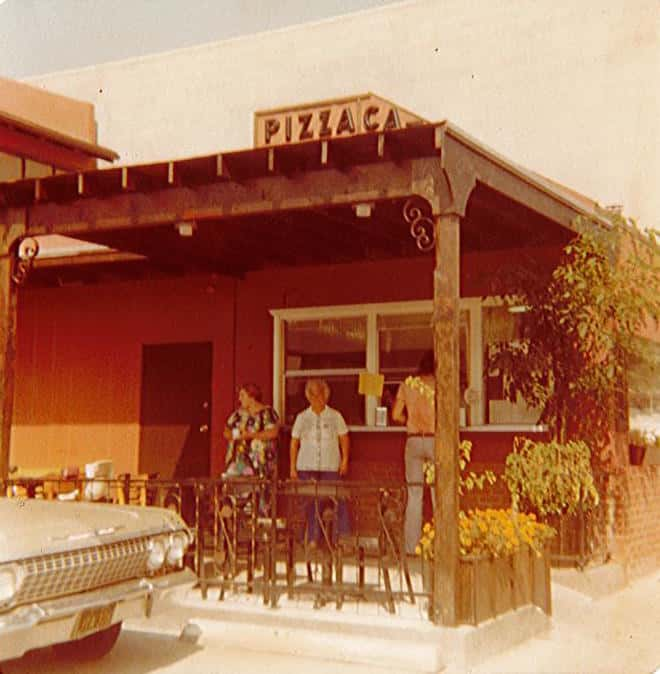 In 1963, Maria went to Los Angeles to help her brothers Matty and Mikey open Matteo's Restaurant on Westwood Blvd. When she returned home, she told her husband Donald that California is the place she wanted to be. So in 1968, Maria courageously packed up all 5 kids, sold the 2 Italian grocery stores that she and Donald owned, and together they all made their way to the golden state. While my dad drove the U-Haul trailer cross-country, my mom flew ahead to find us a place to live. With the help of Uncle Mikey, we settled in West LA.
Once settled, my mother's entrepreneurial spirit took hold and she set out to find the right business. She found a broken down market in Brentwood Village and with minimal savings, blood, sweat, and tears, she turned the market into a neighborhood gem, The Village Mart. It was the most affluent neighborhood at the time and she realized that our customers wanted exceptional products and service. She decided to offer Home Grocery Delivery to our customers (one of the first in the area to offer this service) with the use of our station wagon, and later convinced my dad to purchase a used van with The Village Mart grocery store painted on the side.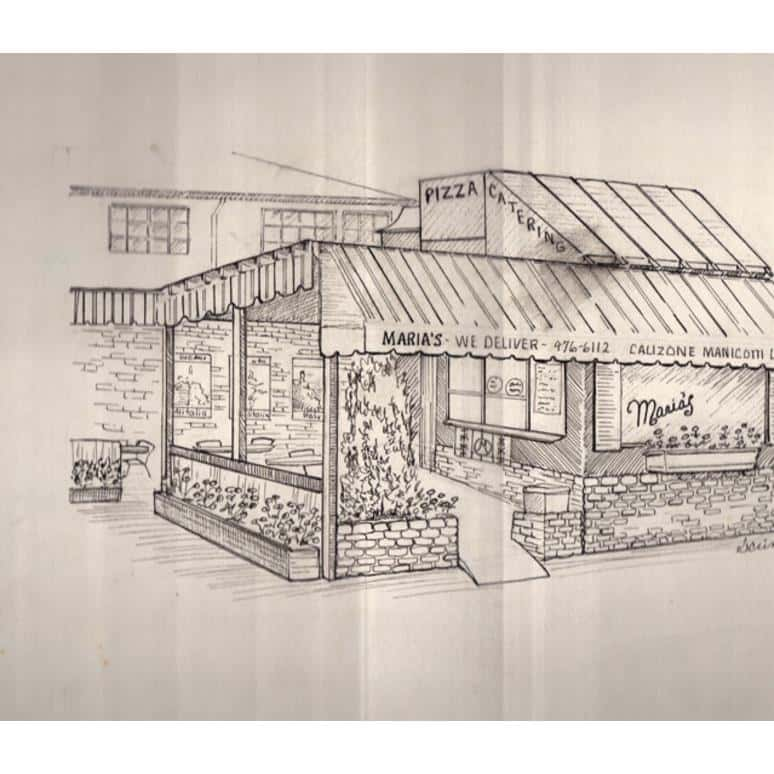 She created the first international food aisle and purchased bottles of French Contrexeville and Italian Fiuggi mineral water. My dad had his doubts, "who is going to buy bottled water when you can get it for free from the tap?" Well, we all know the answer to that! When our customers wanted to purchase only the best produce, my mother took all the ugly produce and cooked up Ciambotta (aka ratatouille). When customers smelled the aroma wafting through the aisles, they asked my mom if they could buy some. The idea of cooking for others marinated overnight, and then she awoke and made the decision; she would start cooking more of her delicious dishes for others to enjoy. Right out of the gate, there was such a demand for her cooking that she told my dad that they should convert the garage into a kitchen. And with that, the original Maria's Italian Kitchen was born. Once again, my dad thought she was crazy, but her persistence once again shined through, which is what got us where we are today.
Maria's is honored to continue filling the hearts and bellies of our neighborhoods with Food and Love. I am so proud of my mother, Maria, and I am so blessed to be her daughter. As we continue to carry on my mother's legacy of Food & Love, we also wanted to share with you 3 tips for Kicking Glass!
1. There is no NO! No is not an ending, it is a beginning. Find out the WHY behind the no, then turn it into a YES!
2. Monitor your "knee jerk" reactions. Pause, breathe, think, then make your best decision and stick to it! Your gut is smarter than you think.
3. Someone's else's urgency is not your responsibility. Just because a co-worker or associate wants to clear their to-do list, doesn't mean it should all be piled onto yours! Set strong boundaries in the workplace, and your personal life, and stand your ground when necessary.
For International Women's Day this year, I also wanted to honor a couple more women in history who shared these same traits of strength, perseverance, and tenacity that my mother had. Similarly, these women "kicked some major glass" and demanded change. These women swallowed their fears and doubts and did what needed to be done; the way only a woman can. The lasting impacts of these women can be seen everyday, all around us, and I feel it is important to take the time to thank these women for their contributions, and to learn from them so that we can continue to fight for equality and change.
Madam CJ Walker (1867-1919)
"The First Black Woman Millionaire in America"
Born Sarah Breedlove in 1867, Madam CJ Walker was a self-made entrepreneur who went on to become the first black woman millionaire in America. After a personal experience with hair loss, she was inspired to create her own line of hair care products.
The last of 5 children, Sarah was the first to be born free under the emancipation proclamation in Louisiana. A life of hardship would leave her orphaned at 7, married at 14, a mother at age 18, and a widow by 20. However, she had the grit to never stop pursuing better. Walker took her then 2 year old daughter and moved from Louisiana to St. Louis where she balanced working as a laundress and taking night classes all while being a mother to her young daughter. It was while living in St. Louis that she met her future husband, Charles J Walker, and developed her line of hair care products. The "Walker System" of hair care products, including a custom made pomade, became a wild success. Originally marketed by Walker herself, then growing in popularity thanks to word-of-mouth marketing, Walker eventually went on to hire "Beauty Culturalists," a fleet of saleswomen tasked with selling product. Her products like Wonderful Hair Grower, Glossine and Vegetable Shampoo began to gain a loyal following, changing her fortunes. However, Walker was never one to think solely of herself.
Madame CJ Walker took the success of her business venture and poured the gains back into her community. Not only did Walker employ some 40,000 people, a large portion of that being black women, she also promoted female talent, going as far as to stipulate in her company's charter that only a woman can serve as president. She also established clubs for her employees, encouraging them to give back to their communities and rewarding them with bonuses when they did. Madame CJ Walker donated generously to a number of educational causes and Black charities, funding scholarships for women at Tuskegee Institute and donating to the NAACP, the Black YMCA, and dozens of other organizations that have helped to shape Black history. Madame CJ Walker's courage and strength led to improving the lives of countless individuals.
Victoria Woodhull (1838-1927)
Victoria Woodhull was the first female stockbroker and a leader of the women's suffrage movement. However, she is best known as the first woman candidate for the United States presidency, which she ran for in 1872 for the Equal Rights Party.
Born to a large family in Ohio in 1838, Victoria spent most of her childhood providing a source of income for her struggling family through her clairvoyant and fortune-telling abilities. At the age of 15 she ran away to escape her father's brutality and eloped with Canning Woodhull. However, she would soon find out that her new husband, who claimed to be a doctor, was a womanizer and alcoholic. They had 2 children together, but after dealing with Canning's alcoholism and abuse, she filed for divorce after 11 years. Four years later, Victoria settled down with her children, sister, and new husband in New York city.
While in New York Woodhull opened a salon and gained fame as a gifted conversationalist. During this time she also became more interested in women's rights and women's suffrage. Woodhull and her sister would go on to become spiritual advisors to Cornelius Vanderbilt, a wealthy railroad magnate. Vanderbilt aided the women in their financial ventures on Wall Street where they started making money in the stock market. They went on to open their own brokerage house in 1870 and made a fortune at the New York Stock Exchange, despite many contemporary men's journals publishing sexualized images of the pair running their firm.
A year after embarking on Wall Street, Woodhull addressed the House Judiciary Committee on behalf of women's suffrage. When hearing of her planned address, suffrage leaders postponed the opening of the 1871 National Woman Suffrage Association's third annual convention in Washington in order to attend the committee hearing. Seen as the newest champion of the cause, Victoria quickly rose to the leadership circle of the suffrage movement.
In 1871, 50 years before women could vote, there was no law in place against a woman running for office, so she ran for president! She was nominated by the Equal Rights Party in May of 1872 and had her nomination ratified in June 1872. Although many historians would agree that Woodhull was the first woman to run for president of the United States, others continue to dispute this fact, citing 3 main reasons: She was younger than the mandated age of 35, she did not receive any electoral or popular votes (though some would argue that her popular votes were not counted due to her gender), and she was a woman. At the time, many Americans didn't view women as full citizens, and since the constitution states that the president must be a citizen, she was excluded from holding office.
These women both set out on a mission, to make better than what was, for not only themselves, but for everyone within their communities. In doing so, the impacts rippled out into the rest of our country and shattered glass barriers for so many. Specialized hair care has become commonplace and brands that share the same sentiments as Madame CJ Walker are doing what they can to make these products accessible to everyone. Women holding a seat in office is no longer cause for alarm. We have grown from slandering a woman candidate simply for running, to having a woman in the White House as Vice President. Though we have come a long way, there are still fights to be fought. Women continue to get pressed into these glass barriers, containers that we have outgrown. Women also continue to fight. Women have, can, and will continue to change the world. Glass will be shattered and things will never be the same.
Every day, and especially today, I am grateful for all the women who have, and continue to make a difference in this world... and when needed, have the courage to "kick glass." Happy International Women's Day!